Well, I have always admitted to hidden lives around the internet, jokingly and seriously both, insofar as it's true, but we all do. That is the nature of the net, you couldn't share your traffic with me, really, unless I let it become my traffic, that is, I follow links you provide me. And that process can never be total, we fill up on a mix from other people.

I have always written with the very selfish position of myself as my audience. I want to like what I wrote myself. If others do it of interest to me, but what I'm willing to do about their opinion is really very limited, though I realize now that I am willing to make one big concession gladly, that is, I will search the best metaphors I can find to communicate the flux of history as I see it. Of course communication involves listening, and that is why it is so worthwhile to make such a healthy concession to one's own listeners, when one will also be a listener.
I'll have to defend myself immediately against charges of self promotion and navel gazing but won't be able to sufficiently since I'm willing to admit it is what some call navel gazing and that although it's not intended as promotion, it is about myself and it does in the end promote the subject, which is MyLeftWing.
MyLeftWing is a name like "MyYahoo" or "MyComputer"... we get to say what it means for us to be "left". If you know me you know I don't believe the left v. right spectrum really has much validity except in casual language, so it suits me to define for myself. MyLeftWing is our left wing, and also, the non-politically correct "left wing" as Maryscott O'Connor sees it.

But it's not just about me, for Averroes has precipitated this essay, not directly requesting it, but by having come upon MyLeftWing. I recognized him immediately by style, though his handle is different. You are distinctive Averroes, I shouldn't admit it, but that's one of my main ways of judging people, I tend to value distinctive people.
I don't object a bit, of course, but the notion that Av had showed up convinced me that all of you might as well know about this place of value to me. It's a progressive community and the proprietess, Maryscott O'Connor is known for earnestness and profanity. The mix seems ironic to some, she's somewhat controversial on the left, sparking objectsion from Markos Moulitsas of DailyKos, for example, when she has aggreed to be on Fox Radio and Fox TV.
I got to know her years ago as I know you here, by conversation in comments, but at dailykos.
The profanity distracts a lot of people, and it acts as a sort of shield I think. The people that tend to gather at MLW read the profane as words and are not distracted, and see the ideas. She's not unlike Hubris in that... an ability to post profane text and topics hides what is below one of the most reasonable and fair people you are likely to find. Those of us at MLW tend to see this in Maryscott while others do not and fully expected her to be cussing left and right on national radio and ripping John Gibson new orafices. Instead, she's charismatic and on the best of terms with him, while still not watering herself down. "I saw you said you were going to appear on the right wing nut fest that is the John Gibson radio program on your blog... " John said to her on her first appearance. She handled it in stride, Gibson loves her which is cool and disgusting both if you ask me. How did I get on that tangent? What was I?
It's a pretty progressive community, but not politically correct, swearing is not shocking for one thing, but also many members of the community have non-politically correct opinions, such as myself, or even, in one member's case... liking fois gras and other animal-unfriendly foods... if you don't know why that's politically incorrect, I'll have to tell you later. Many smoke, etc., it's ordinary people that are liberal and progressive mostly but not exclusively.

Maryscott has been going on John Gibson's radio program, and now once on his Fox Television show, and she is very disarming and poised.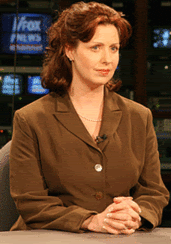 Kos, that is, Markos Moulitsas of the DailyKos fame as just mentioned objects to any liberal going on Fox, and many vehemently expressed worry that she would seem unhinged, blinded as I said they are by her written profanity.
However, her appearances have generated less criticism and more praise after the fact though the unofficial but intentional policy of Kos and the other Dem Bloggers has not changed. I am one of the admins at MLW, as we call it. I can write FP (front page) posts though generally I just write "diaries", essays that go on the open diaries page and on your own "dairy" page, and promote the diaries of others to the FP. Front Page vs. Diary Page is a distinction of the community blogs, generally scoop or scoop-like software.
Side Note: The "fame" of DailyKos; not that people know what DailyKos is, people I run into are always "wha? huh?", but they may well learn soon. Sen Kerry, Ried, Fiengold, Obama, Boxer, Rep Slaughter, Conyers, and others all have posted blogs there, "diaries" they are called in the lingo of scoop, the software running dkos and several other weblog communities.
I think you all could be welcomed there, though it is unabashedly liberal and dedicated to preserving that, the people there pride themselves on listening if you are civil. Again, "civil" is counterintuitive to combine with a tolerance of profanity, but profanity is not uncivil by these standards, it's what you say with (or without profanity) that matters.
However, if you are not progressive, being the minority might get hard, and feel unbalanced, as it's no doubt true you will notice more tolerance of liberal positions than conservative positions, the main offense being that while many will treat you civilly IF someone gets upset with a conservative view they are likely be tolerated and in this way, a community remains ideological for good or bad. I post all over, including conservative homes like redstate, this sort of status doesn't bother me at all, but there is pressure and I wouldn't deny it.
To balance this I'll tell you of a second blog and stop there lest I reveal more than a few percent of my secret lairs and paths. This is a new blog that combines a conservative and liberal in debate, ostensibly, though both will post individually as will I. Unlike an average new blog, this one already has traffic as the liberal, Armando, is very well known at DailyKos (dkos has over 600,000 visits a day, astounding) and the conservative, Joshua Treviño, aka "tacitus" is founder of tacitus.org and redstate.org, and well known also in political blogging, from the right.
So an instant audience of left and right is met at this blog which started just last monday.

But note, these people come to swords crossed mostly from blogs that are not ideologically mixed, it's new to them, UNLIKE CABAL users. We're old hands at it. Tacitus was Josh's blog, but he always welcomed progressives to post in comments and eventually to the main page, and it has now been set free and the FP stories come from diaries which have been voted to the front page. Treviño has excellent credentials in terms of wanting things to be represented in a balanced way, I respect his integrity though I marvel sometimes that such a respectable person could have positions that, in this day and age, I find impossible to themselves respect. Support for the war, anti-choice, etc, but an honest man not afraid nor resentful of criticism or contradiction. Also, Treviño is credible as a "compassionate conservative", which I respect. Like many Americans in 1999, I have much hope that compassionate conservativism COULD have meant something good, and again, though to me some of his positions ironically seem discompassionate to me... at least I know it is a matter of differing judgment, that he believes his policies are best, not just for him, but for the nation.
Armando, otoh, is an asshole. Mind you, I'm excellent friends with Armando, it's his actual personal position that he's an "asshole". He's not actually an asshole, but he can be rhetorically intimidating to people. One part of the swords dynamic happens to be that Treviño is able to demand Armando's civil best, and sets policies against profanity and too much bluster, two vices of Armando's. Armando is a Clarke Democrat, and his actual ideas are not molested at all by profane or blustering thoughts, just web log comments at time. You know how it is. Profanity is not tolerated at Swords.
This site I'm speaking of is to be found at SwordsCrossed.com, it opened Monday. I'm helping these guys with some stuff that is to Armando very technical, to Joshua somewhat technical and something he could use help on. They insisted that it was only right to let me post with them though the site is set up ostensibly as a debate between those two, to be continued or rebutted in comments by all. My reputation in that whole space is as someone that is generally incomprehensible, totally impossible to understand. But they insisted so I'll use the forum.

Cabal is also a blog in this genre, hubris another compassionate conservative (independent?), who put together something that ended up, if anything, slanted against him. I can't tell you how much I respect intellectual bravery like that... but VERY MUCH. More than anything else, I suspect, that defines a man or woman's politics. Hubris is one of the most honorable men in debate I've ever met, and my standards are high. I'd like to see you post here at Cabal more, Hubris, and I'd like to promote it in the right and left blogosphere.
Indeed, I would like to see Hubris Blogging at MLW, and all of you, and still, of course, Cabal, which I hope can continue.
Cheers.